"Never a student but a great reader. R. W. E. [Ralph Waldo Emerson] gave me Goethe's works at fifteen, and they have been my delight ever since. My library consists of Goethe, Emerson, Shakespeare, Carlyle, Margaret Fuller and George Sand. George Eliot I don't care for, nor any of the modern poets but Whittier; the old ones - Herbert, Crashaw, Keats, Coleridge, Dante, and a few others - I like."
If you are as big of a fan of Miss Alcott as I am of Ernest Hemingway, I invite you to check out the books that inspired her the most. (If you are as big of a fan of Miss Alcott as I am of Hemingway, I also urge you to check out Susan Bailey's website: Louisa May Alcott Is My Passion.)
One great way to get to know your favorite writers no longer alive (upon reading all of their works) is to read the books that they read.
Below is the master-list of 25 cherry-picked Louisa's favorites, the ones I'd have borrowed from her, had she invited me over her home. Challenge yourself with these books, if you're up to an imaginary read-along with the creator of Little Women:
While piling up Louisa May Alcott's favorite books onto her imaginary bookshelf, I exclusively used Louisa as my source -- her letters and diary entries.
1. Goethe's Correspondence with a Child by Bettina von Arnim
"My romantic period began at fifteen, when I fell to writing poetry, keeping a heart-journal, and wandering by moonlight instead of sleeping quietly. About that time, in browsing over Mr. Emerson's library, I found Goethe's Correspondence with a Child, and at once was fired with a desire to be a Bettine, making my father's friend [EMERSON] my Goethe. So I wrote letters to him, but never sent them; sat in a tall cherry-tree at midnight, singing to the moon till the owls scared me to bed; left wild flowers on the doorstep of my "Master," and sung Mignon's song under his window in very bad German."
Twelve-year-old Louisa's makes a diary entry:
"I have been reading to-day Bettina's correspondence with Goethe. She calls herself a child, and writes about the lovely things she saw and heard, and felt and did. I liked it much."
...and 45-year-old Louisa comments on her teenage diary entry:
"First taste of Goethe. Three years later R. W. E. gave me "Wilhelm Meister," and from that day Goethe has been my chief idol." (L.M.A. 1885)
2. Wilhelm Meister's Apprenticeship by Johann Wolfgang von Goethe
3. Faust by Johann Wolfgang von Goethe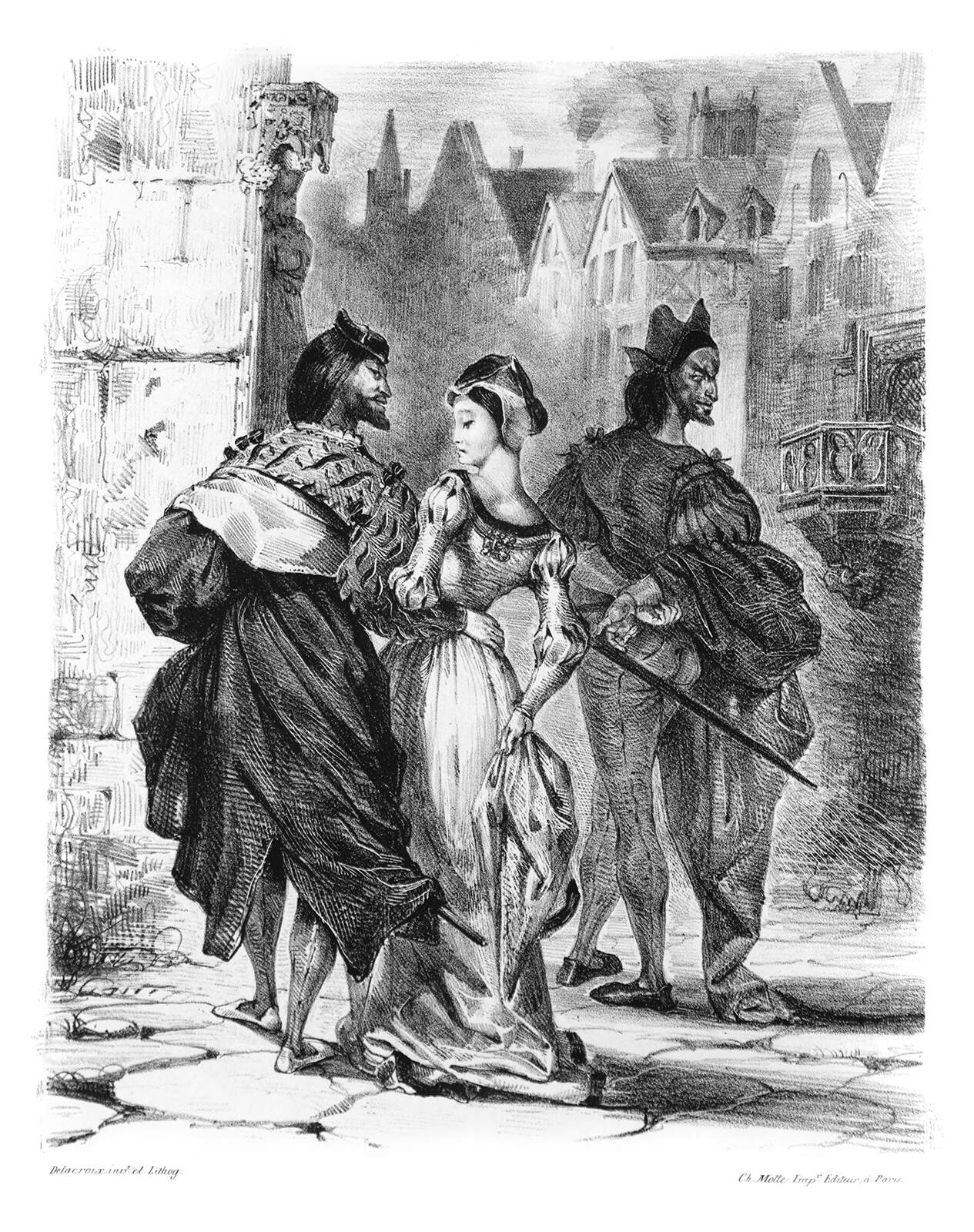 4. Poems by Ralph Waldo Emerson
"Not till many years later did I tell my Goethe [EMERSON] of this early romance and the part he played in it. He was much amused, and begged for his letters, kindly saying he felt honored to be so worshipped. The letters were burnt long ago, but Emerson remained my "Master" while he lived, doing more for me,–as for many another,–than he knew, by the simple beauty of his life, the truth and wisdom of his books, the example of a great, good man, untempted and unspoiled by the world which he made better while in it, and left richer and nobler when he went."
5. The Scarlet Letter by Nathaniel Hawthorne
Seventeen-year-old Louisa writes:
"Reading Miss Bremmer and Hawthrone. The "Scarlet Letter" is my favorite. Mother likes Miss B. better, as more wholesome. I fancy "lurid" things if true and strong also."
Nineteen-year-old Louisa writes:
"Made a resolution to read fewer novels, and those only of the best. List of books I like:"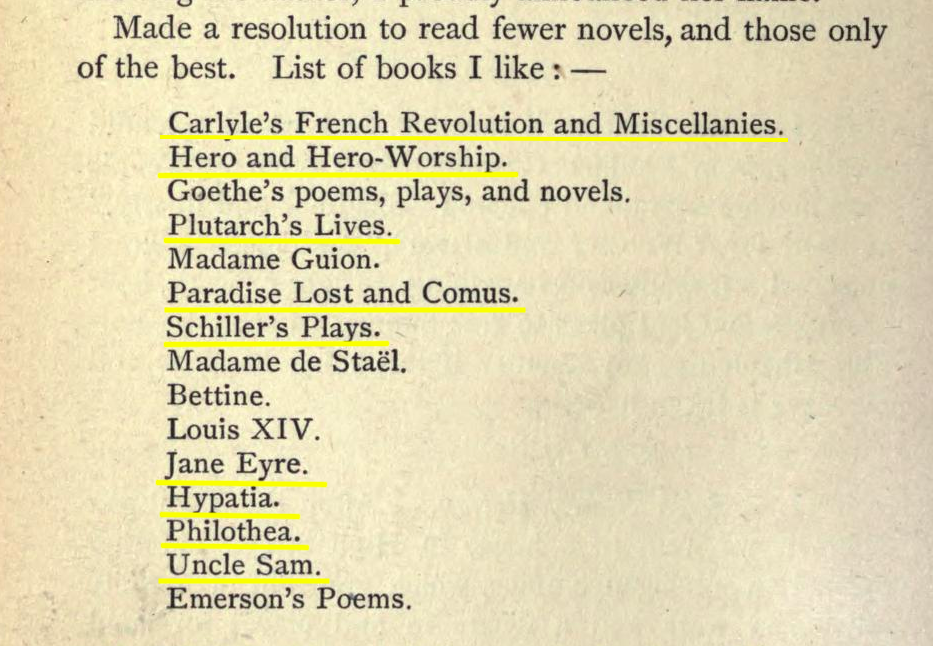 6. The French Revolution: A History by Thomas Carlyle
7. Scottish and Other Miscellanies by Thomas Carlyle
8. On Heroes, Hero-Worship, and The Heroic in History by Thomas Carlyle
9. Lives of the Noble Grecians and Romans by Plutarch
10. Paradise Lost by John Milton
11. Comus by John Milton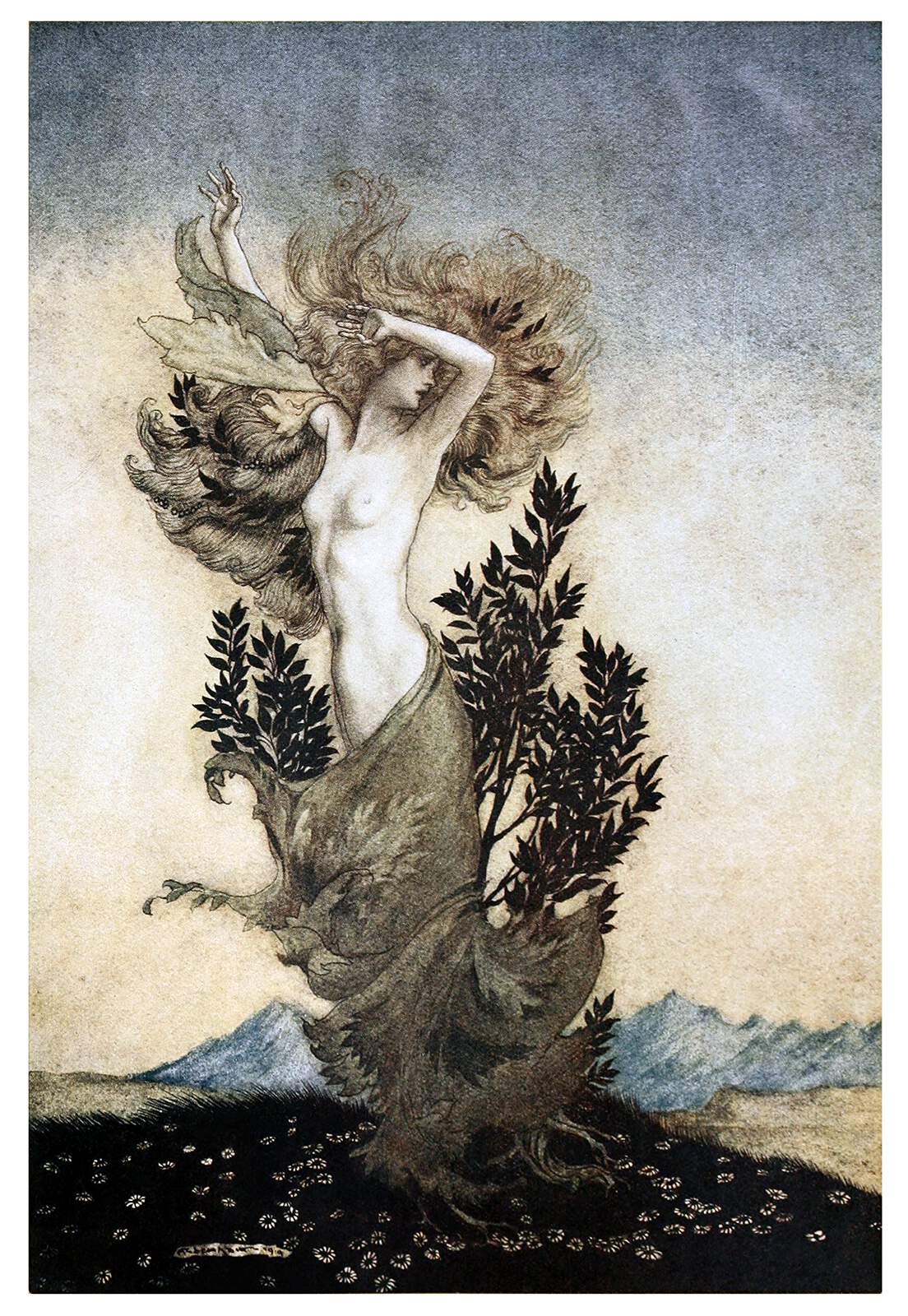 "I read no modern fiction. It seems poor stuff when one can have the best of the old writers."
(To librarian Viola Price, 1885)
12. Friedrich Schiller's Plays
13. Jane Eyre by Charlotte Bronte
14. Hypatia by Charles Kingsley
15. Philothea, or An Introduction to a Devout Life by Saint Francis de Sales
16. Uncle Tom's Cabin by Harriet Beecher Stow
17. The Divine Comedy by Dante Alighieri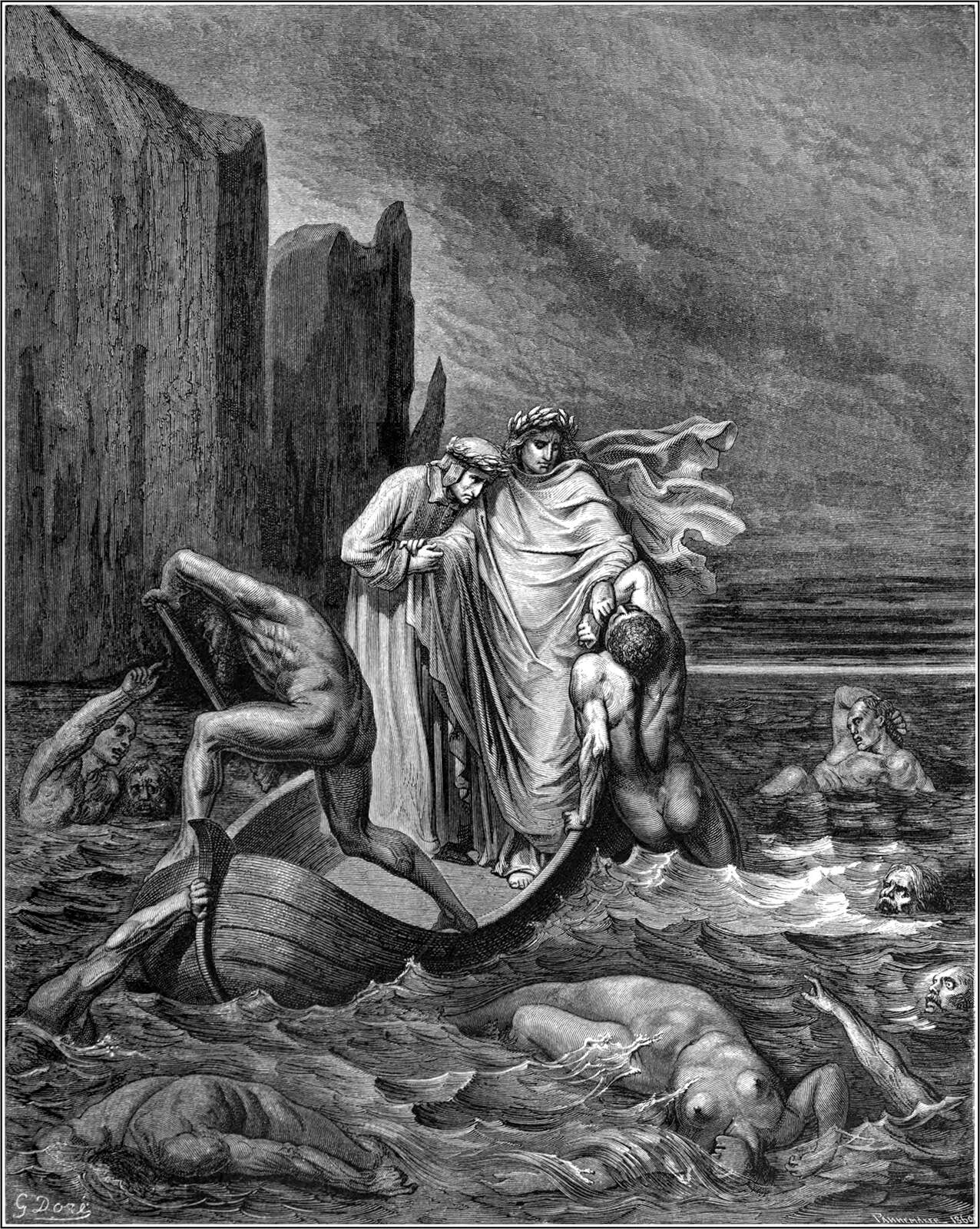 The books that Louisa not only had her little women, Meg, Jo, Beth and Amy read but were her personal favorites too:
18. The Pilgrim's Progress by John Bunyan
19. Patronage by Maria Edgeworth
"Pilgrim's Progress", Krummacher's "Parables" , Miss Edgeworth, and the best of the dear old fairy tales made the reading hour the pleasantest of our day.
Father read to us in dear Pilgrim's Progress."
20. The Pickwick Papers by Charles Dickens
21. Evelina by Frances Burney
"Charles Auchester is charming, - a sort of fairy tale for grown people. Dear old "Evelina" as a change, was pleasant. Emerson recommended Hodson's India, and I got it and liked it; also read Sir Thomas More's Life. I read Fielding's "Amelia", and thought it coarse and queer.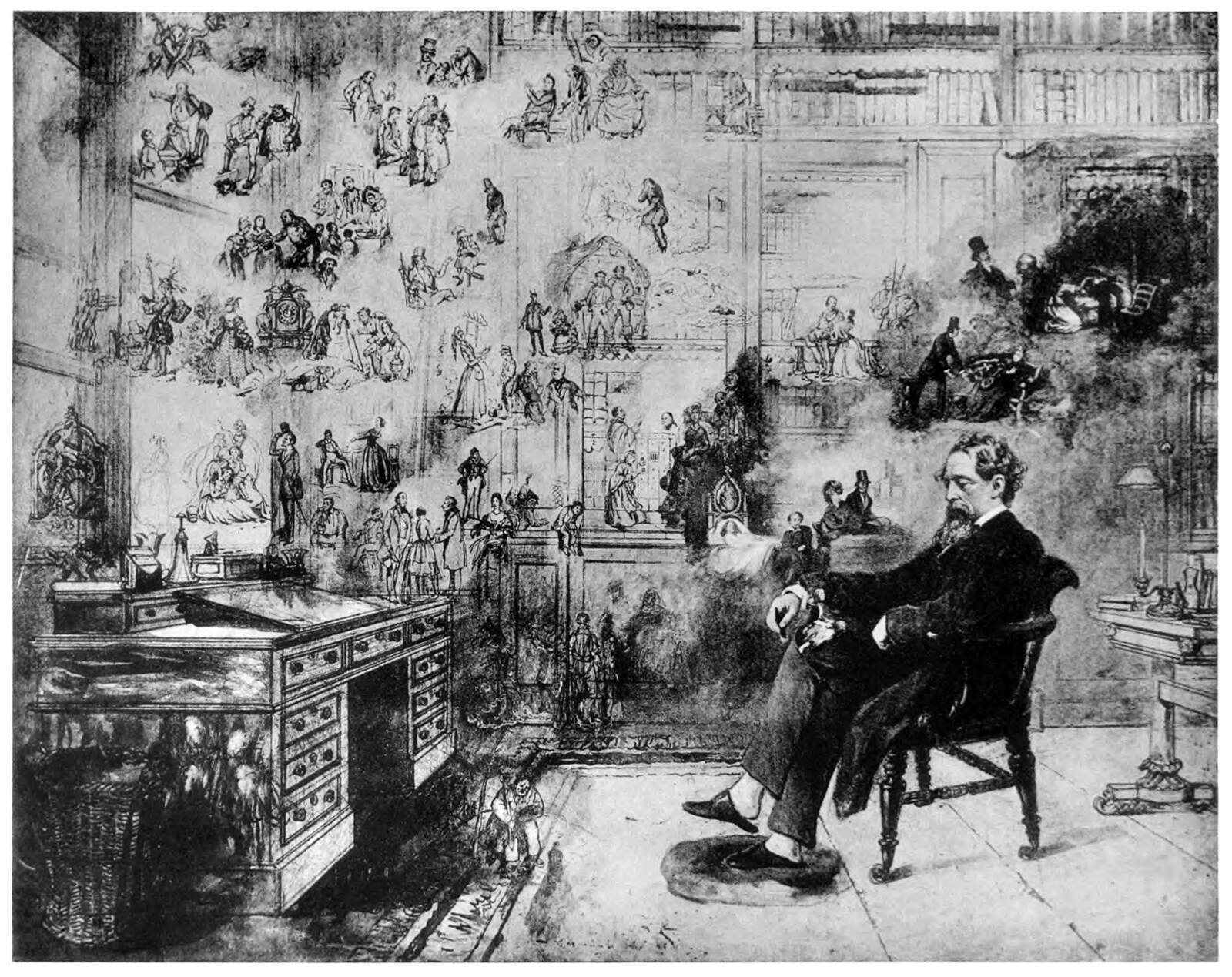 22. Complete Poems by John Keats
23. Machbeth by William Shakespeare
24. The Merchant of Venice by William Shakespeare
Last but not least:
25. Walden by Henry David Thoreau
Rumour has it that Louisa had a crush on Thoreau, similar to her "Emerson-crush". However, while I was able to locate immense proof of her intellectual attraction towards Emerson, I couldn't find any proof (not one diary entry, a letter, a note) that her feelings for Thoreau were deeper than respect. Nothing like her adoration towards Emerson. Then there is Louisa's first novel Moods, with the best friend Warwick character being in love with the Jo-like/Louisa-like heroine and many think Warwick was modeled on Thoreau, the same way many think that Little Women's Laurie was also modeled on Thoreau.
I'm hoping that one day a kind Louisa May Alcott-expert reads these lines and sends me a few enlightening sources for Louisa's romantic feelings for Henry. Until then I remain suspicious whether Louisa's crush on a misanthrope can be more than one of the great literary gossips out there.
Have you read Little Women?
My Little Women review is here for you to have you do just that or else disagree with it.

P.S. Here is where to find Louisa May Alcott's journals and letters online for free:
---